Security Solutions All-Hazards Management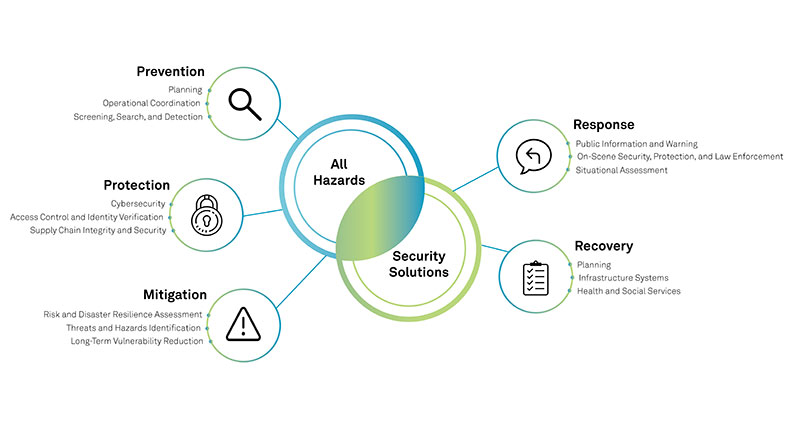 System interoperability is a challenge for every organization with a role in All-Hazards management, whether government or civilian. Successful All-Hazards management—no matter the scale or urgency—requires a clear understanding of the situation and clear coordination among the response team both before and after incident response is required. One of the biggest impediments to this success is a lack of interoperability between systems, which makes accurate, timely information sharing difficult.
Our All-Hazards Solutions
Security Solutions provides materiel and non-materiel solutions that support the challenges presented in achieving successful All-Hazards management across the entire incident spectrum; from Prevention to Recovery to include Lessons Learned.
This includes:
Enabling communications between legacy and modern systems
Integrating interoperability policy, standards, and acquisition challenges with emergency incident data exchanges
Enabling interoperability and resilience between government agencies responding to emergencies
Reducing the cost of achieving and sustaining interoperability between public safety agencies that have different systems
Improving ability to efficiently share information to other systems during unified responses that include multiple public safety disciplines and different echelons of leadership and management
Promoting standardization across different agencies without the need for a complete technology replacement
"Future Proofing" legacy and pending interoperability challenges to accommodate the migration of capability in the cloud
Infor EAM
The best-in-class, SaaS-based asset management solution, Infor EAM, is used to track assets, digitalize maintenance operations and enable customers in nearly any industry to reach optimum operational efficiency.
Learn more
.