GEEP | Google Earth Enterprise Platform
New for GEEP in 2023
Open GEE Archived: The Open GEE repository has been archived. GEEP is now the only supported version of Google Earth Enterprise. See the announcement for details.
Increased support: as part of our continuous updates, we support Docker Containers and are the only support for RHEL 8.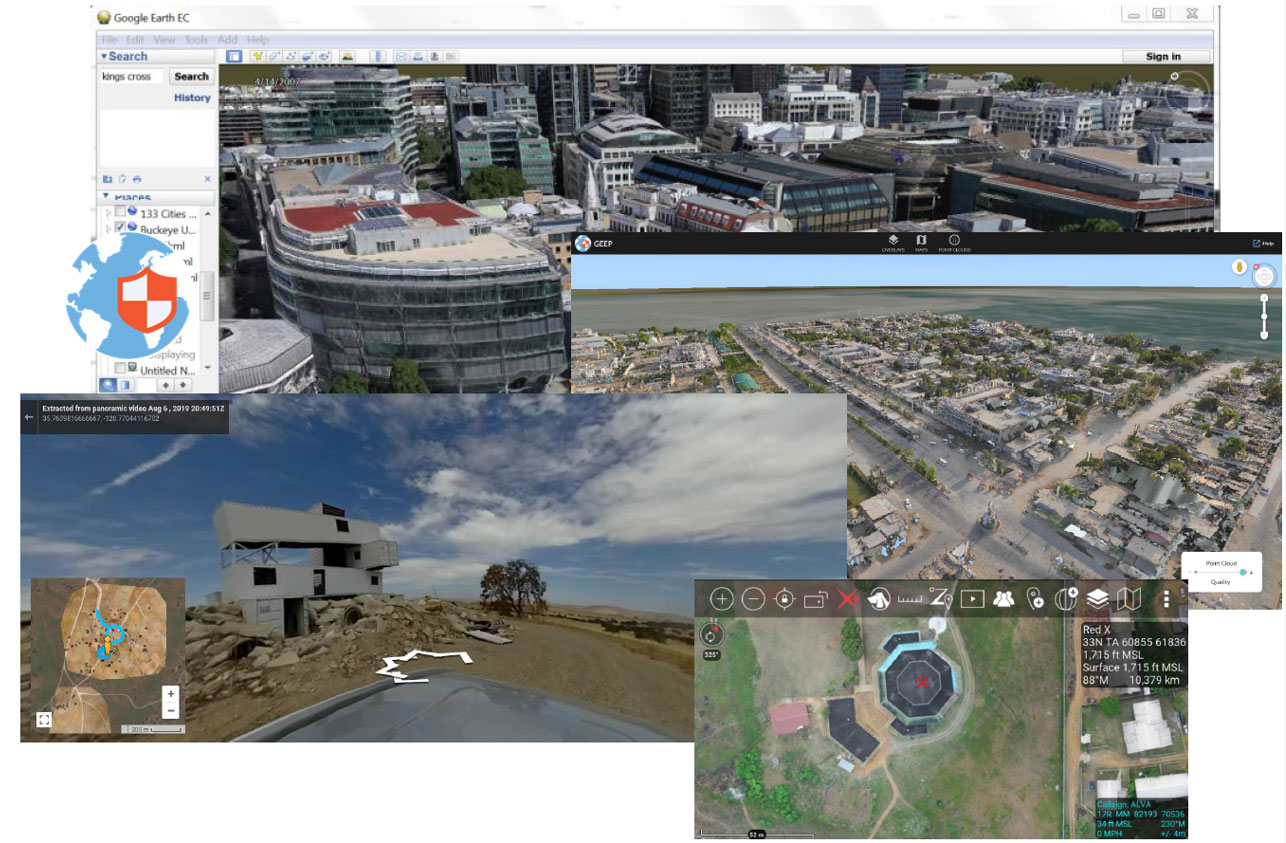 What is GEEP?
GEEP is an enhanced and secure version of Google Earth Enterprise that allows for the management of geospatial data, to include raster, vector, and terrain. GEEP provides an intuitive user experience across a variety of environments including tactical, enterprise, mobile, and comms-denied. GEEP is the end-to-end Google Earth experience without any connection back to the Internet.
See below for more details on the benefits of GEEP, and contact us at info@hexagonusfederal.com for more information or to see a demo.
Powerful and Automated
Enterprises ranging from small to large are seeing an increased expectation to collect and leverage location-based data, and then process and visualize that data to formulate actionable intelligence both for mission and business decisions. Traditional GIS systems can be expensive and require specialized training to use, making it difficult to find affordable solutions and the GIS professionals required to process the data.
GEEP combines:
accelerated performance
a familiar user interface requiring minimal training
and automation of time-consuming geoprocessing workflows
Easy to Use – Minimal Training
GEEP makes imagery and other geospatial 2D and 3D data accessible and useful to every day decision makers and front-line users via an intuitive application. With minimal training, anyone who has used Google Earth can quickly and effectively operate GEEP within about an hour.
Your Data - Secured
GEEP enables organizations to create and manage multiple private globes (foundational mapping data), keeping their sensitive data behind the firewall with access restricted to authorized users while operating in any number of environments, including:
high side networks
comms-restricted or denied networks
or completely disconnected environments
Continuously Updated
GEEP is regularly updated with the latest Secure Technical Implementation Guide (STIG) compliance standards, ensuring security and safety. GEEP is updated with quarterly releases and has a multi-year roadmap ensuring long term reliable support.
GEEP Key Features and Benefits
Intuitive user interface
Those who are familiar with Google Earth will find the same user experience offline and with instant access to the data most critical to your workflow.
Highly performant
Globes allow for rapid image, vector, and terrain retrieval. Even within low bandwidth networks, GEEP allows for smooth visualization of your spatial content.
Multiglobe (MuG)
The multi-globe database structure expedites globe building and maintenance and significantly reduces the size of datasets.
Panoramic Image Support
Panoramic imagery integration and display (a "street view-like" experience) 2D Google Maps API.
Secure and Compliant – US Government Ready
Secure and hardened platform. Built to support DISA Security Technical Implementation Guide (STIG) compliance. GEEP is backed by world class engineering, exceptional documentation, and an extended list of supported spatial formats. GEEP also has received ATO on several networks and enclaves.
Android Tactical Assault Kit (ATAK) Support
Windows Tactical Assault Kit (WINTAK) Support
GEEP supports advanced point cloud formats and optimizes interoperability with ATAK/WinTAK workflows to take advantage of 3D portable globes in fully disconnected and fully mobile environment.

GEEP Services
| | |
| --- | --- |
| Globe Building | GEEP Globes are the basis of the visualization platform. The compute time to build Globes exponentially increases as you add additional imagery, terrain, and vector data. GEEP's MuG capability can build Globes faster and cheaper than the alternative. |
| Training & Education | Hexagon US Federal provides in person and web-based training. Our extensive experience supporting mission-focused users ensures the training directly supports your workflow. |
| Configuration & Installation | To optimize the installation and configuration for your organization's size, scale, and scope. The user experience is critical, and we can ensure the best outcomes for your organization. |
| Custom Software Development | We offer full service GEEP integration into your custom applications. Providing interoperable capabilities ensures rapid deployment to support the mission. |
| System Administration | We ensure your systems are kept up to date and secure. |