What We Do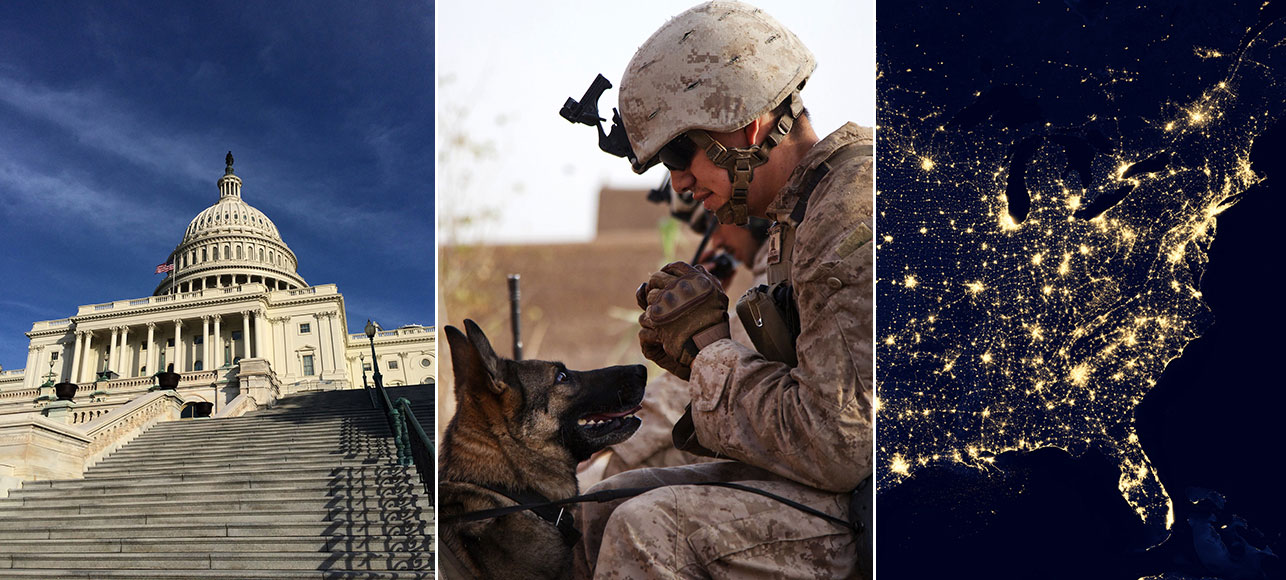 Hexagon US Federal develops mission-specific solutions for our customers that improve mission effectiveness and establish resilience across the enterprise.
Our Markets
Continuing on a long-standing heritage, Hexagon US Federal proudly supports a broad range of US Government customers across the Federal Civilian, Defense, and Intelligence Communities delivering mission critical solutions. Whether supporting end-user Government customers directly or by partnering with their private industry partners, Hexagon US Federal is dedicated to enabling our nation's warfighters, contributing to the success of our national security priorities, and ensuring effectiveness for Civilian agencies in the pursuit of well-being for nation's citizens.
Our Products
Our core lines of business focus on taking cutting-edge Hexagon technologies and develop innovative, mission-specific solutions that enable our customers to:
Harness the power of their data and interconnected assets
Model, analyze, and visualize their mission space and processes in great detail
Sense and collect information about their dynamic environments
Reduce risk and improve resilience across their operations
Products
Software for remote sensing, photogrammetry, image analysis
Geographic Information Systems (GIS)
Airborne, Terrestrial, and mobile LiDAR and optical sensors
Space-based LiDAR
Single Photon LiDAR
Custom Aerospace Hardware
Google Earth Enterprise Platform (GEEP)
ARTEMIS (Aerial Reconnaissance Tactical Edge Mapping Imagery System)
Ground-penetrating radar
Devices for assured Position Navigation and Timing (PNT)
Custom antenna development
GPS anti-jam
Autonomous vehicles
Software for improving cyber resilience of industrial control systems
Our Solutions and Services
We also offer a range of enterprise information management solutions, custom hardware and specialized professional services. These solutions and services ultimately:
Enable our customers to make smarter and faster operational decisions
Streamline operations, improve mission effectiveness,
Establish resilience across the enterprise.
Solutions/Services:
Geospatial production services
Cartographic Web Services
Space and Earth research
Instrument Engineering
Custom aerospace hardware development
Modeling and Simulation
Systems Engineering
IT Services
Enterprise Data Integration and Transfer
Electronic Records Management and Declassification
Portable/Towable Modular Structures
Aircraft Maintenance Planning
Ruggedized Equipment
Configuration Management Solutions
Computer Aided Dispatch
Law Enforcement Records Management
Incident and Emergency Management
Comprehensive All Hazards approach
Industrial Enterprise Operational Efficiency Improvement
Critical Infrastructure and Operational Technology Automation and Cyber Resilience