All-Hazards Capabilities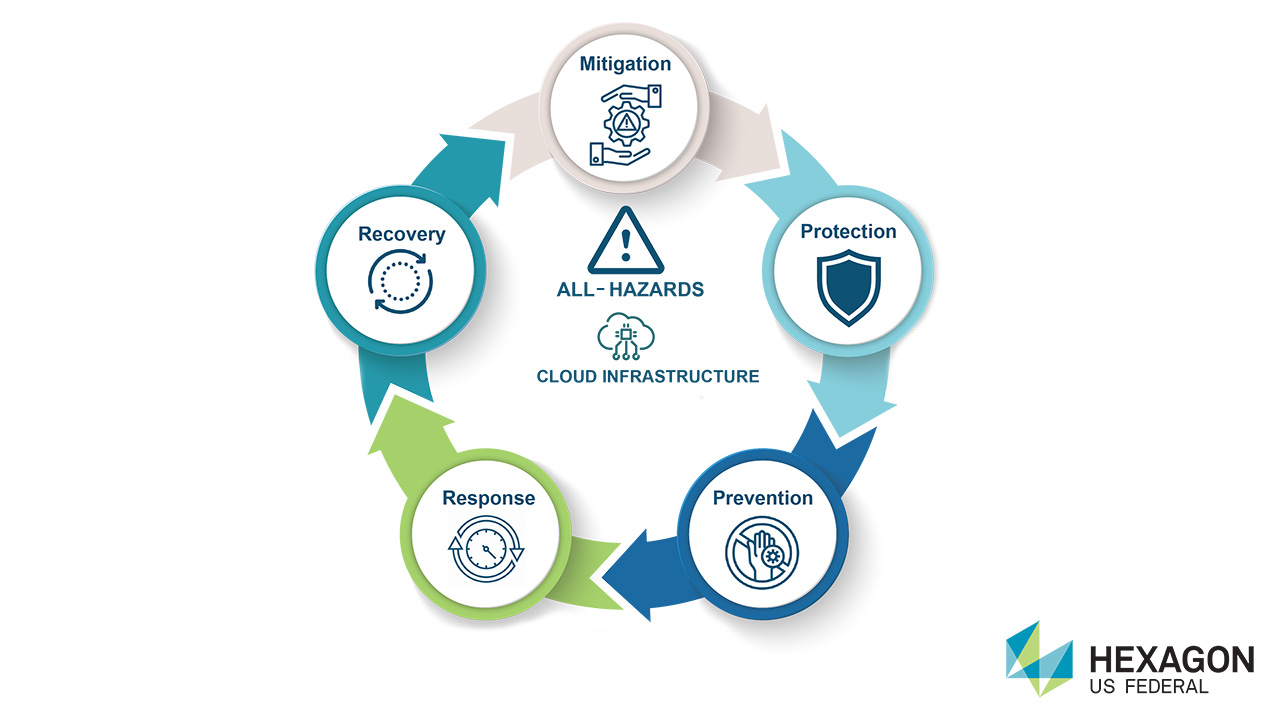 Hexagon US Federal Security Solutions incorporates the full spectrum of All-Hazards into our entire Security Solutions portfolio, specifically tailored for the needs of the US Federal and military market CONUS and OCONUS - before, during, and after incidents or during normal daily operations.
Why We Need All-Hazards
The National Defense Strategy (NDS) 2018 States: It is now undeniable that the homeland is no longer a sanctuary. America is a target, whether from terrorist seeking to attack our citizens; malicious cyber activity against personal, commercial, or government infrastructure; or political and information subversion. New threats to commercial and military uses of space are emerging, while increasing digital connectivity of all aspects of life, business, government, and military creates significant vulnerabilities. During conflict, attacks against our critical defense, government, and economic infrastructure must be anticipated.
Featured Products
•
HxGN OnCall Dispatch:
Agile next-gen call-taking and computer-aided dispatch (CAD) capabilities that link callers, dispatchers, managers, and field officers for faster, more effective response.
•
HxGN OnCall Records:
Robust records management system (RMS) that provides rapid access to reliable information whenever and wherever needed.
•
HxGN OnCall Analytics:
A single source of organizational data featuring interactive reports and dashboards that all can use for evidence-based analysis and communications
•
HxGN OnCall Planning & Response:
Web-based application for managing major incidents and events that integrates and coordinates resources, procedures, and communications for safe, effective action.
•
HxGN OnCall Field Mobility:
Task-focused apps that connect first responders with dispatch and records capabilities to ensure safe, efficient operations.
•
Intergraph Computer-Aided Dispatch:
Industry-leading incident management software.
Application Integration
•
Xalt
:
Enable rapid, affordable, tailored interface development.
Advanced Utility GIS
•
Intergraph G/Technology:
Plan, design, and document the network and apply information.
•
Intergraph G/Technology DataBrowser
•
Intergraph G/Technology Fiber Optic Works:
Enhance the complete lifecycle of civil infrastructure and fiber network management.
•
Intergraph NetWorks Suite:
Extends your G/Technology capabilities and connects your enterprise to its network model.
•
GTViewer:
Mobile apps for disconnected field work with Intergraph G/Technology.
•
Intergraph G!NIUS
Outage Management
•
HxGN InService:
Restore power quickly and efficiently.
•
Intergraph Damage Assessment Optimizes Outage Management and Electric Utility Restoration:
Restore utility services faster with real-time network data
•
Intergraph Outage Notifications:
Speed delivery of detailed outage alerts.