About Us
Hexagon US Federal Overview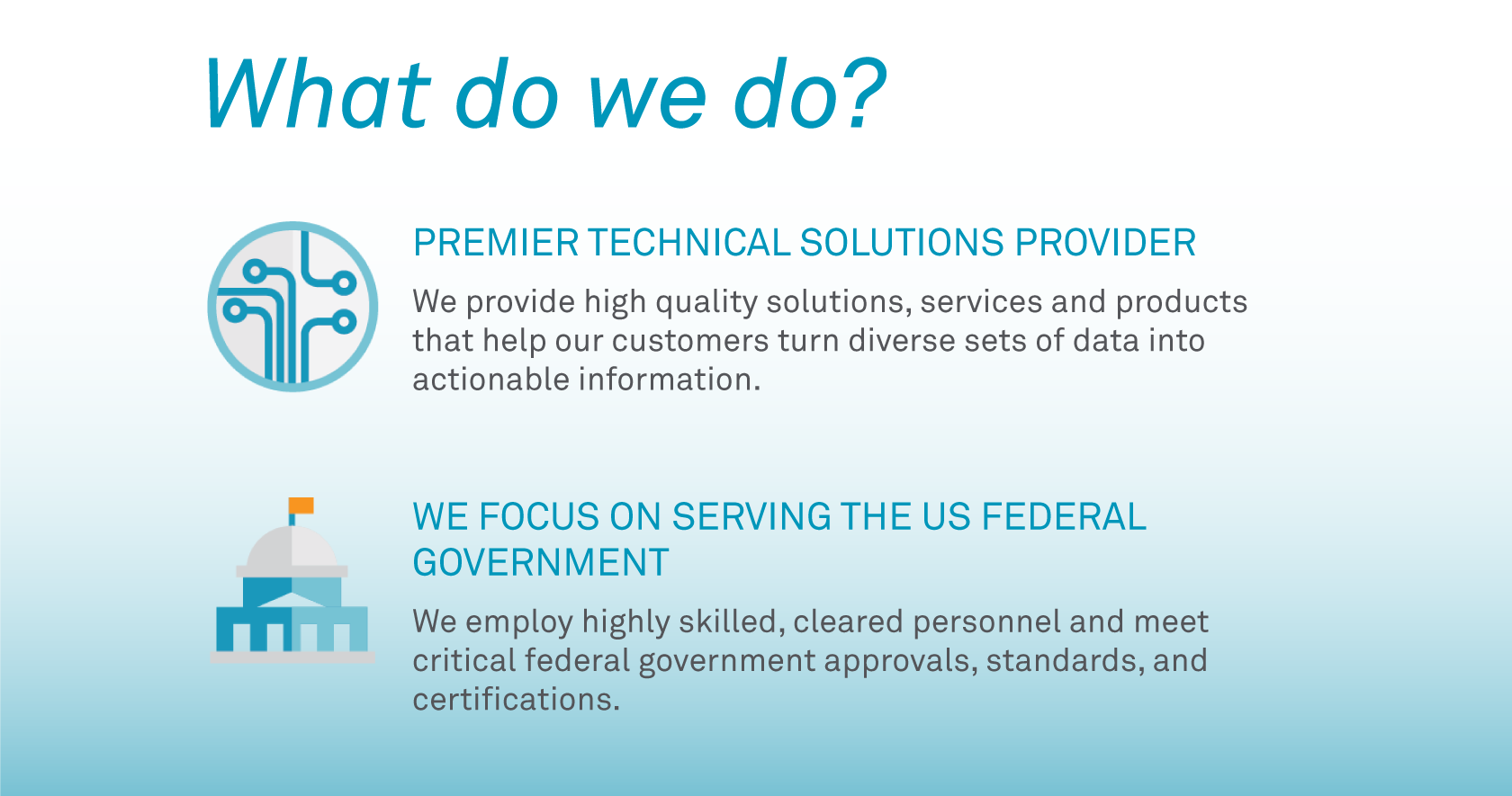 Hexagon US Federal is an independent subsidiary for Hexagon Safety & Infrastructure's U.S. federal business. As a premier provider of integrated geospatial and technical solutions to the US Government, Hexagon empowers government agencies to make smarter and faster operational decisions. Hexagon US Federal helps its government customers create intelligent maps, analyze geospatial intelligence, manage assets and infrastructure, and provide dispatch emergency services. It transforms complex data from disparate sources into real time actionable information. With its deep industry expertise and long tradition of technical innovation, Hexagon US Federal also helps its government customers optimize and streamline their operations, protect their critical assets, improve operational performance and readiness while reducing costs.
Quality Management Systems
Quality Policy
"Every employee is committed to implementing quality processes in order to meet or exceed customer expectations and ensure mutual profitability. Quality plans with measurable quality objectives ensure continual improvement of processes and products. Customer satisfaction for all internal and external customers is the expectation, and will be achieved through processes that deliver a superior product or service, on time, and at the right price." — Ken Barnett, Chief Financial Officer
Quality Objectives
Provide Intergraph products and integrated turnkey solutions to meet our client's requirements, schedule & budget
Maintain a customer satisfaction rate of at least a 4 on a 5 point scale
Continuously improve product quality and process efficiency
Maintain a fair and creative work environment that respects new ideas and hard work
Industry Certifications
Open GIS Consortium: Intergraph is a member of the Open GIS Consortium (OGC). Our software products are certified for compliance to standards.
ISO 9001-2008: Intergraph is certified to the ISO 9001:2008 Standard. Our inspection system is maintained in accordance with ASQC-Q9002 (1994), but certified under ISO 9001:2008 certificates. Measuring and test equipment is calibrated in accordance with section 7.6 of the ISO 9001:2008 standard, and is traceable to the National Institute of Standards and Technology.
Vision/Mission Statement
We empower U.S. Federal Government agencies to make rapid and intelligent operational decisions by harnessing vast amounts of complex data. We develop and deploy innovative solutions, transforming and improving mission critical operations.
U.S. Federal Government & U.S. Department of Defense Contract
As an experienced supplier to many federal agencies, Hexagon US Federal is an approved supplier under contract for numerous government programs.
Hexagon is a registered government contractor in the System for Award Management (SAM) under DUNS # 963395368 and/or CAGE Code 63CL1.