SmartMaintenanceFast – Aircraft Scheduled Maintenance Program
Your aircraft Scheduled Maintenance Program (SMP) is the foundation for lifecycle sustainment. However, over time, scheduled maintenance inspections no longer accurately reflect the maintenance requirements of an aging platform.
In 2018, the average age of the total Air Force fleet was 27 years with the B-52 and KC-135 averaging over 45 years of age and the Navy found itself in a similar position. Many of these legacy aircraft are flying with Service Life Extensions well beyond their original design life.
Improving Readiness
Emergent, unscheduled maintenance events continue to increase as the quality of scheduled events decreases. The results are maintenance packages are over budget and over schedule due to unplanned work. In addition, as maintenance (Mx) hours increase, aircraft availability (AA) falls. Transforming your program to meet changing maintenance requirements of an aging platform with SmartMaintenanceFast is the single best investment you can make.
The Right Time to Find...The Right Time to Fix...
The SmartMaintenanceFastsm Solution will establish, implement and sustain your aviation platform system with an SMP centered on the "Right Time to Find… Right Time to Fix…." Our integrated SMF tools InSightAnalysissm and InsightDecisionsm help you efficiently and effectively modernize your SMP. Both tools are DoD Adapted and support both fixed and rotary wing aircraft.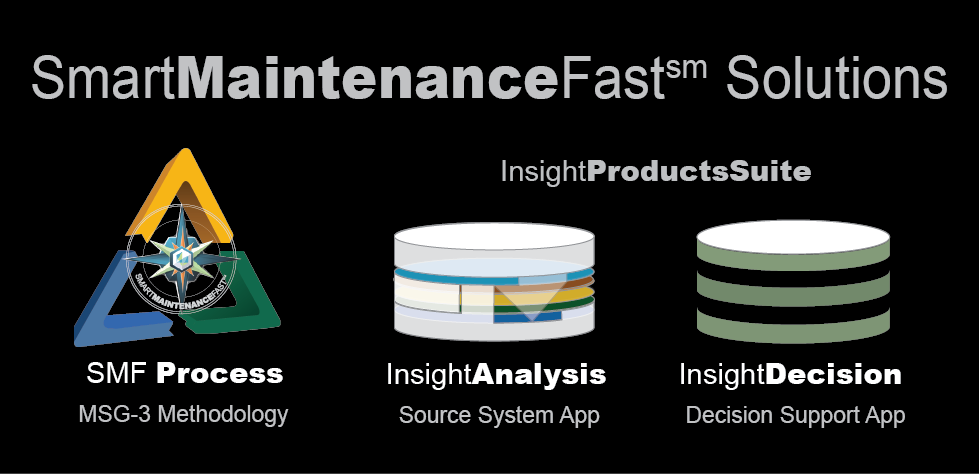 Establishing a transformed SMP occurs through a Working Group led by the Chief Engineer, Stakeholders, and facilitated by Hexagon to perform an engineering analysis utilizing the Maintenance Steering Group 3 (MSG-3) Methodology (PDF).
Implementing a SMP requires definition of maintenance parts, tools, consumables, job qualifications, inspections, and technical data.

InsightAnalysis (PDF) provides the MSG-3's decision logic, documenting the justification of engineering requirements of the aircraft SMP
Sustaining an SMP requires definition of inspection tasks, reliability, and aircraft availability.

InsightDecision (PDF) filters and transforms historical maintenance failure data into relevant decision-making information. Facilitates root cause analysis and provides continuous monitoring of fleet reliability and task performance throughout the platform's lifecycle.
About SmartMaintenanceFastsm (SMF)
In response to the DoD's aging aircraft fleets, declining budgets, and increasing maintenance costs, we developed SmartMaintenanceFastsm (SMF), an MSG-3 program for military aircraft and helicopters.
SMF was pioneered on multiple aircraft platforms utilizing our military and commercial MSG-3 SMP experience
SMF is a proven solution applied to the C-5, TH-1H Huey, UH-1N Huey, F-15, JSTARS, and Global Hawk programs
SMF integrates hierarchical SMP design and task-tracking numbers for performance based reliability feedback
SMF based on MSG-3 methodology, a commercial best practice that has proven to be the most effective process for creating and enhancing SMP's resulting in substantial improvements in availability, Reliability, aircraft Safety, and Cost efficiencies.
SMF satisfies all requirements of the latest MSG-3 revision and ensures full compliance with military-unique regulations, policies, missions, and environmental requirements.
Maintenance Steering Group 3 (MSG-3)
MSG-3 is a process designed to develop SMP as well as maintain and restore fixed and rotary wing aircraft to their inherent Safety/Reliability levels. It was introduced in 1980 and today is a commercial best practice. It's the most comprehensive aircraft maintenance methodology due to its top-down task oriented approach. The methodology is controlled and governed by the Airlines 4 America (A4A) Maintenance Industry Group consisting of Owner-Operators, Original Equipment Manufacturers (OEM), Industry Partners, and Regulatory Authorities (FAA).
For More Information
Learn more about our proven SmartMaintenanceFastsm solution here (PDF)
Contact us to schedule an appointment.
Our Products
Our software products, designed and ready for military network certification, directly complement Smart Maintenance Processes. They vastly improve data integrity, clarify decision-making, enable standardization, and speed MSG-3 analysis.
Learn more about our proven software products supporting SmartMaintenanceFastsm.