PAS Cyber Integrity for OT / ICS Cybersecurity
Industry Leadership for Over Two Decades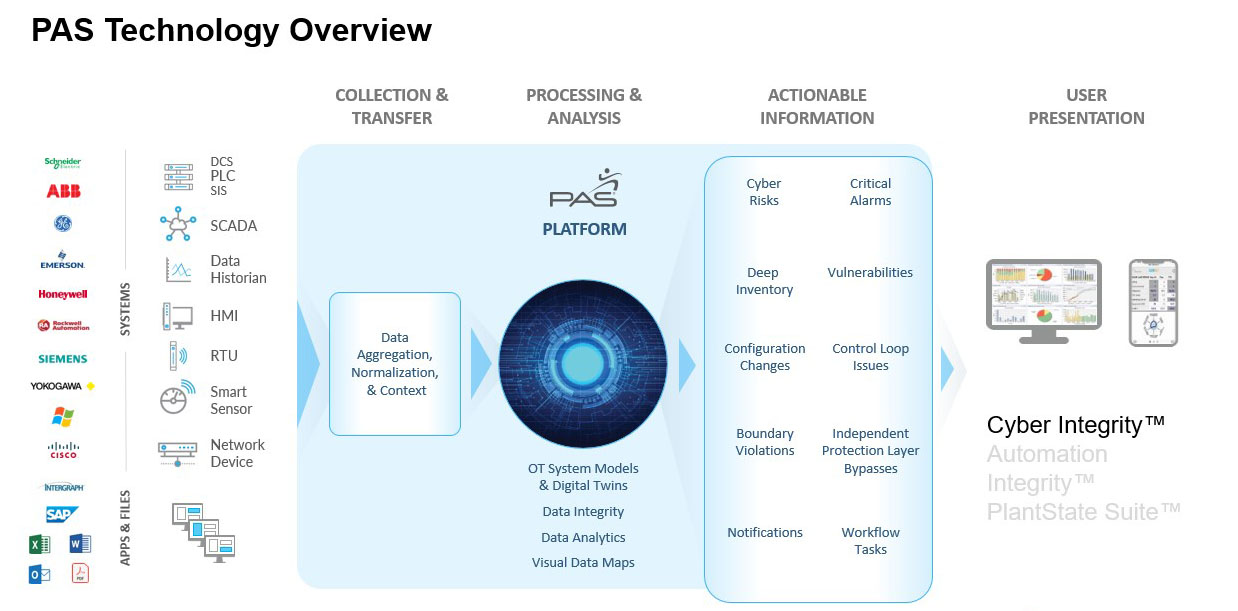 PAS, part of Hexagon, is headquartered in Houston, Texas, with regional offices in Australia, Bahrain, Canada, Qatar, Singapore, South Africa and the United Kingdom. PAS provides cybersecurity solutions to the following:
13 of the top 15 refining companies
13 of the top 15 chemical companies
4 of the top 5 paper companies
3 of the top 5 mining companies
1,450+ Industrial Sites
535+ Customers
70+ Countries
With more than two decades of experience in the power and process industries, PAS provides world-class software, services and expertise. Founded in 1993, PAS has deep, real-world understanding of OT environments. We provide solutions with actionable insights for operators, engineers, analysts and decision makers. We incorporate the operational context of safety, reliability, and profitability and understand cyber risk to level zero.

Our software works across more than 120 industrial control systems and can be deployed for individual sites or enterprise-wide. We provide multiple integration methods to integrate with software solutions you already have.

PAS pioneered the first platform-independent alarm management software and high performance Human-Machine Interface (HMI) in the 1990s. In 1996, PAS introduced the first automation systems configuration management solution, which is deployed at more than 1,400 sites around the world. The Alarm Management Handbook and The High Performance
HMI Handbook were written by PAS employees and demonstrate our experience and leadership in operational best practices.
Cybersecurity
Prevent, detect and remediate cyber threats.

PAS aggregates and organizes proprietary and nonproprietary automation asset configurations for the entire enterprise. Transform the highly complex data of disparate systems into a simple and intuitive visualization, enabling industrial personnel to assess the current state of operations and cybersecurity risk.

PAS Cyber Integrity™ hardens security for the most critical assets in an enterprise, the industrial control systems. By utilizing a comprehensive inventory of operational (OT), Industrial Controls Systems (ICS), and informational technology (IT) assets, companies can monitor for unauthorized changes – due either to malicious attacks or inadvertent engineering changes – and drive risk-appropriate remediating actions.

PAS automates the processes for OT/ICS inventory discovery/management, vulnerability management, configuration baseline and policy enforcement, patch management, compliance management, backup and recovery, and forensics.

With PAS, industrial companies can:
Mitigate risks from cyber incidents and non-compliance
Avoid unplanned shutdowns
Retain practical knowledge imbedded in automation assets
Reduce compliance efforts by up to 90 percent
Optimize performance of automation systems
Manage their automation and sensor configuration data across vendors
Enrich predictive models, operator simulators and process modeling simulators
Make more confident decisions that rely on OT/ICS data